Certified Honda Technician near Carlsbad CA

The best way to keep your Honda model performing at its best throughout the scenic roads and valleys of Carlsbad, you'll want to make sure that you're scheduling timely service. When it comes to getting the right service and care, your best bet is a certified Honda technician near Carlsbad, who's familiar with the engineering, mechanics, and systems found into today's Honda models.
When it's time, you can schedule service with us at Norm Reeves Honda Superstore Vista. Our team of certified Honda technicians will make sure that your vehicle gets the service it needs to get back out on the Carlsbad roads performing at its best!
Our Honda Mechanics & Technicians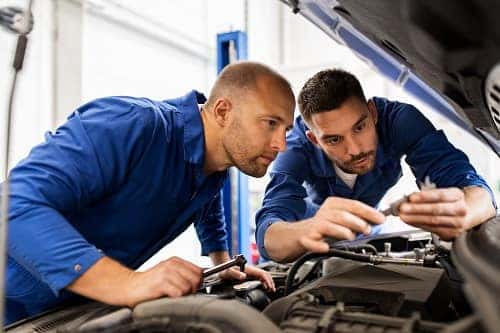 Our service center is equipped with a team of certified and skilled Honda experts. Each Honda mechanic goes through rigorous training and is certified with the Honda engineering and technical systems, so they can have expertise for when it's time to conduct repairs and inspections. Each Honda mechanic is carefully trained on the Maintenance Minder system, so they're familiar with the codes and procedures for resetting the systems.
Well-Equipped Honda Service Center
On top of having the right team, we also have the best tools for the job in our service center. Our expert Honda technicians use some of the latest automotive tools and advanced diagnostic technology that they use on each model that rolls into our service bays. They'll run the systems to detect the issues that are causing your vehicle to perform less than exceptionally.  Once they've got an idea of what needs servicing and repairing, they'll go to work with the specialized tools to ensure your Honda is in perfect shape.
Genuine Honda Parts Readily Available

Another major reason to take your Honda in for service with our dealership is that we have access to genuine Honda parts within our parts center. When a Honda technician is working on your vehicle and needs a new filter, belt, or even plug, they'll be able to get it easily and replace it so you can get back on the road. If you like performing your own maintenance, you can easily find the part you need and replace it!
Benefitting from Routine Maintenance
You don't always have to schedule service with a certified Honda technician when there's something wrong under the hood. In fact, by scheduling routine service regularly, your vehicle will stay in great shape. It's a chance to ensure that parts and fluids are replaced in a timely manner, but our technicians will be able to check the condition and quality of the engine components and plan ahead for any major service or repairs that your vehicle may require. You can effectively get ahead of any major repairs.
Schedule Your Honda Service Today
If you've noticed any issues under the hood or you know you've got some upcoming maintenance, then you can schedule your service with us at Norm Reeves Honda Superstore Vista. Our certified Honda technicians near Carlsbad are here to help you keep your vehicle in great shape so you can enjoy driving it for the years to come.
Schedule your Honda service with us today!