Oil Change near San Diego CA

There are a variety of automotive services that you'll want to keep up with if you want your vehicle performing its best while traveling throughout San Diego. But of all the services to get performed on your vehicle, the oil change is not only one of the most common, but it's also one of the most important.
If you're looking to get an oil change near San Diego, you can easily schedule an appointment with us at Norm Reeves Honda Superstore Vista!
Why Does My Car Need Oil?
Your engine features several moving metal parts that all work together when your vehicle is on and in motion. However, these parts are constantly rubbing against each other, which can create friction. Too much friction can cause your engine to overheat.
Oil acts as a lubricant for these parts, so they can continue to move efficiently without generating too much heat. The oil even helps cool the metal parts. However, oil serves another important function: Cleaning the parts. Dirt and debris can wind up in your engine, and oil will actually catch it. Over time, the oil will become darker and grittier, which means it's time to schedule your oil change.
Why Does Oil Need to Be Changed?
As you've read, oil serves numerous functions to help your vehicle perform. But oil has a shelf life once it's poured into your engine. Oil can get dirty, which will start to have a negative effect on it performing its functions—resulting in a less efficient performance. When oil is first poured in, it has a honey brown/golden color. After it's been in your engine for a few thousand miles, it starts to become darker and thicker. Once it's in this state, it needs to be changed.
Signs That My Vehicle Needs an Oil Change near San Diego CA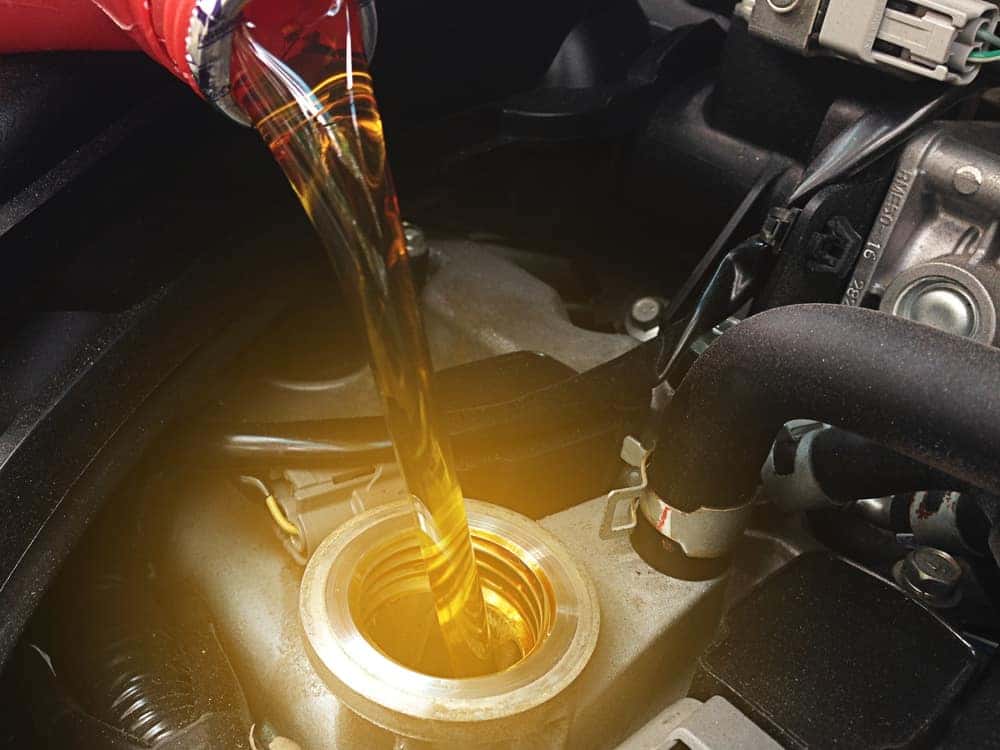 The best way to stay on top of the condition of your oil is by knowing how long your oil lasts, as well as when you last had it changed. However, there are a few additional signs that your vehicle gives off that can tell you that you'll want to schedule an oil change near San Diego soon:
Engine Noises & Knocking
Sluggish Performance
Check Engine Light/Maintenance Minder
Black Exhaust Smoke
Scheduling Your Next Oil Change
Whether you've noticed a few of the signs listed above, or you've kept up on your mileage and know exactly when it's time for an oil change, you can schedule one near San Diego at our dealership. Our technicians will ensure that your vehicle gets the necessary service, as well as the oil change and the filter replacement needed, to ensure that your vehicle is in great shape once it rolls out of our shop. By staying on top of your vehicle's oil changes, not only will it perform at its best and most efficient, but it will last for the years and miles to come.
Schedule your oil change with us at Norm Reeves Honda Superstore Vista!