Tire Repair near Encinitas CA

While there are many important components equipped on your vehicle, your tires play a pivotal role in your car's overall function. Of course, tires aren't impervious and can endure a considerable amount of wear and damage while you're cruising the streets of Encinitas. That's why it's important to routinely check the status of your tires so you'll know when to schedule tire repair near Encinitas CA.
At Norm Reeves Honda Superstore Vista, we're here to provide Encinitas drivers information about their tires and when they'll need tire repair and Honda service.
How to Ensure Your Tires Last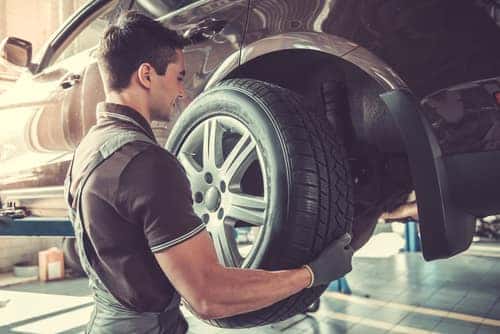 While tires are actually designed to wear and be replaced, there are a few ways that you can ensure that you're getting as much out of your miles as possible. Tire rotations are important because it helps even out the wear that your tires are enduring. For instance, tires in the back take on more wear than the ones in the front, so rotating your tires can help you keep them lasting as long as possible.
You'll also want to be mindful of any potholes or debris on the road, as these can contribute to tire damage and premature wear. Hard braking also has an effect on your tires and their longevity.
Signs You'll Need to Schedule Tire Repair
In order to tell if you need to schedule tire repair near Encinitas, you'll want to get a sense of the signs that it's time to schedule Honda service to look at your tires. Some signs are obvious, but others you'll want to carefully look out for so you can plan ahead and avoid any major issue that causes your tire to burst.
Visual Signs
Wires/cords are visible
Noticeable tread wear
Cracks/bulges in sidewall
Physical Signs
The vehicle pulls to one side
Vehicle vibrates while in motion
Schedule Your Tires Repair or Replacement
If you notice any of the signs that are listed above, you'll want to seek out tire repair near Encinitas to make sure that the issue is dealt with and your tires are in optimal condition and ready to face the road. It's not a service you want to put off for too long because the integrity of your tires could be compromised, and if a tire bursts on the road, it'll cause a hiccup in your commute and require you to change your tire.
When you stay ahead of any tire issue, you'll be ensuring a smoother ride on the road ahead. Whether yours need to be rotated, or there's a hole that needs to be plugged, our Honda service technicians will make sure that your tires get the service they need. Our technicians may even recommend a tire replacement if the wear or damage is too considerable to repair.
If you're noticing some signs that indicate there's something wrong with your tires, you can always schedule your service with us at Norm Reeves Honda Superstore Vista so we can make sure your tires are ready to take on the open roads of Encinitas!