Honda CR-V Maintenance Schedule

The Honda CR-V is an exciting SUV that lets you stay ready for anything. Whether you're making daily errand runs or heading out to explore Vista, Escondido, and Carlsbad, California, it's a capable vehicle that adapts to whatever life calls for. In order to ensure its continued performance, you'll need to make sure it is properly maintained and cared for.
The service crew at Norm Reeves Honda Superstore Vista is here to help you stay out on the road in your CR-V. This Honda CR-V maintenance schedule guide will show you when it's time to head over to your local Honda service center. Make sure your SUV is ready to hit the road and stay safe with proper service!
Oil Changes
---
Motor oil is an essential factor in the engine's long-term performance. It keeps the metallic parts lubricated to prevent damage from grinding and transfers heat around the engine. It gets dirty over time, so oil changes will be one of the more frequent maintenance services you'll need.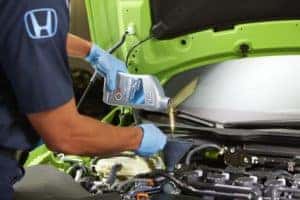 Under normal conditions, you'll want to get your oil changed every 6,000 miles or at least once a year. Clean oil keeps the CR-V engine running smoothly. In severe conditions, like dirt, dust, or heat, you'll want to have your oil changed twice as frequently—every 3,000 miles or six months.
Brake Inspection
You use your brakes every time you drive, so you'll want to make sure they're in good working condition. Make sure you can stop when you need to and keep yourself safe with consistent brake checkups.
Have your brake pads checked for wear and tear, along with the disc brakes, every 6,000 miles or six months. Brake fluid is another important component for your car's health, as it is an essential middleman for your brakes' function. It should be replaced every three years.
Tire Rotations
---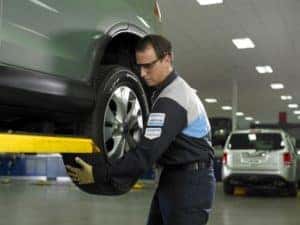 Tire rotations constitute moving around the position of each tire of your CR-V to make sure they wear down evenly. This service increases their lifespan. As a good habit, you should visually inspect the inflation level and condition of your tires once a month.
As for tire rotations, let the experts handle your ride with expert precision. Tire rotations should take place every 6,000 miles.
Engine Coolant Replacement
Your CR-V unleashes a lot of energy while it's running. That power makes the engine block very hot, so it's essential that it is cooled properly. That's where an engine coolant comes in—it performs an essential job.
To keep your engine properly cooled, it should be replaced after 100,000 miles or 10 years, whichever comes first.
Regular Checks
---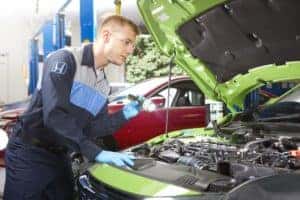 There are several parts in your Honda CR-V that should be examined regularly. If you run into some trouble when out on the road, you'll want to know about it sooner rather than later. These fluid levels should be checked to make sure there aren't any leaks slowly draining them.
Have these looked at every 12,500 miles:
Engine coolant
CVT fluid
Rear differential fluid
Brake fluid
Windshield washer fluid
Stay on Top of Your Honda CR-V Maintenance Schedule
---
There are plenty of adventures waiting for you on the roads of Vista, Escondido, and Carlsbad, CA. Let Norm Reeves Honda Superstore Vista keep your CR-V prepared with a service visit today!
---