Local Spotlight: New English Brewing Co.


If you fancy yourself a beer enthusiast, then you've probably got your finger on the pulse of the local craft beer and brewery scene in the San Diego area. One of the best spots to sample some local brew is New English Brewing Company. If you're heading out this weekend to try some ales, stouts, lagers, or pilsners, you may want to give this place a try.
About New English Brewing Co.
This brewery was founded by Simon Lacey, who wanted to create a brewery with an emphasis on English and American-style beers and ales. This brewery was founded in 2007, just before craft breweries exploded in popularity. Using his experience of growing up with the pub culture in northwest England, he crafted an ambiance, as well as a slew of amazing beers.
Since opening, New English has become one of the premier breweries in San Diego. They've expanded, added new brewing equipment and barrel fermenters, and began crafting new beers in their 9,000-sq.-ft. facility.
Grab a Brew

There are plenty of amazing brews on tap for you to try that encompass both American and English-style brewing methods and ingredients. Whether you like something light and zesty, or something dark and bitter, there's plenty of options to sample at New English.
Try some of our favorites, like:
Brewers Special Brown Ale 6.6% ABV
A robust brown ale made with roasted malts and imported barley, leaves a strong and full-bodied flavor.
Pure & Simple IPA 6.5% ABV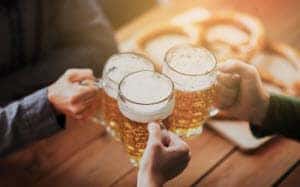 This IPA incorporates tropical fruit flavors and aromas like guava, mango, and pineapple, as well as a variety of malts and a healthy helping of hops, resulting in a refreshing but biting finish.
Blueberry Blonde 6% ABV
This beer, crafted off of the backbone of the Summer Seasonal Blonde Ale, dials back the bitter and incorporates the sweet and tartness of blueberries, which are added late in the fermentation process.
Por Favor Pils 4.8% ABV
A classic beer; it's crisp, refreshing, zesty, and citrusy, with added German pilsner malt.
Pacific Storm Stout 5% ABV
This West Coast take on Irish dry stouts provides a robust brew with malt, barley, and added bitterness to create a nice, creamy finish.
If you're in the mood for a good brew and a great ambiance, check out New English Brewing Co. during your next outing! You can even join the Growler Club to get discounted growler fills, first access to limited edition beers, and even access to exclusive member's-only events!