Support Local Business: Ciao Ristorante Italiano

Now more than ever, it's important to support local family-owned and -operated businesses, especially restaurants. When you're in the Vista area, and you're looking for some authentic Italian cuisine, there are a few spots out there that can serve up some spaghetti. But if you're in the mood for a top-tier taste of Italia, there's no better spot than Ciao Ristorante Italiano!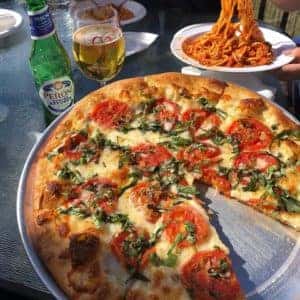 About Ciao Ristorante Italiano
For more than 20 years, Ciao Ristorante Italiano has been one of the go-to spots for authentic Italian cuisine in the greater San Diego area. They sustain the traditional "trattoria" tradition, providing a comfortable atmosphere for their patrons while serving up some tasty, classic dishes. Whether you're looking to dine in, take out, or order from their delicatessen, you'll be happy with the quality and flavors that they offer.
The restaurant offers plenty of options for dining, so whether it's a family gathering, a larger private event, an intimate night out, or catering for a party, there's a lot to choose from at Ciao Ristorante Italiano.
Buon Appetito! What's for Dinner?
When you arrive and you're all set to dine, you'll want to get the evening started with a few appetizers to really round out your Ciao Ristorante experience. Whether it's with Mozzarella Caprese, Black Mussels Arrabiata, or Salumeria (meats and cheese), you'll have a lot to choose from to appease your taste buds while you work your way through the menu.
If you came hungry, you came prepared. The dishes will certainly fill you up and satisfy your palate. When it's time for dinner, you'll have plenty of options to consider. There's traditional fare like Capellini D'Angelo, Penne Puttanesca, Lobster Ravioli, Linguine with Clam Sauce, and more!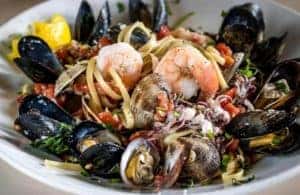 They also offer extensive risotto and gnocchi selections for some variety. Of course, with dishes like Chicken Sorrentina or Veal Saltimbocca, choosing your dish can be quite a challenge. But if you've got a craving for some sea-faring menu items, the Cioppino, Shrimp Scampi, or Linguine Pescatore can certainly satisfy. If you want to keep it simple, order up a few pizzas that the whole family can enjoy—with traditional or Napolitano woodfired options to choose from!
Finish off the experience with some sweet offerings like tiramisu, cannoli, gelato, and more!